April 2016 Featured Speakers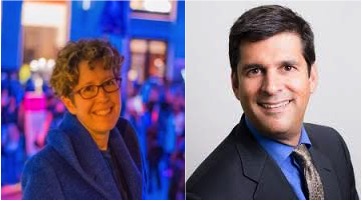 Jennifer Garvey Berger and Christopher Kayes
Dr. Jennifer Garvey Berger believes that the best organizations help make people bigger, more creative, more capable; organizations can and should be places where we live on our growing edge, expanding our own capabilities as we do good work. Leadership, then, is about creating the conditions for people to be their biggest selves. Almost no one knows how to do this intuitively; leadership is a discipline as much as accounting, law, or engineering. As Jennifer says in her first book, Changing on the job: Developing leaders for a complex world (Stanford Business Books 2012), if we want organizations where people are thriving and bringing their best, we need leaders who are learning. With her colleagues, Jennifer designs and teaches long-term leadership programs that expand not only the way leaders work but also the way they think about the world. Jennifer and Keith Johnston wrote about their leadership development approach in their new book, Simple Habits for Complex Times: Powerful Practices for Leaders, which was published by Stanford Business books in 2015.  Jennifer has a BA in English from St. Mary's College of Maryland, and a masters and a doctorate from Harvard University. Eschewing work/life balance for a life that feels like fun across the board, Jennifer loves to write, to throw a ball for her dogs on the beach, to fly kites with her kids, and to figure out how to make whole organizations work better. Formerly an associate professor at George Mason University, Jennifer learned about deep change in 2006 when she turned down the tenure offer and moved to a small seaside village in New Zealand with her husband, two kids, and the family dog. Jennifer loves that her life is a blend of watching the sun set over the Tasman sea and having conversations that make a difference for clients all around the world.
Dr. Chris Kayes (PhD, Case Western Reserve University) is professor and chair of the Management Department at The George Washington University School of Business. He has also served as interim dean of the School of Business, where he led the school's financial turnaround.
Dr. Kayes' research on learning, leadership, and organizations has appeared in 25 peer-reviewed publications. One paper received the first most significant contribution to the practice of management award by the Organizational Behavior Division of the Academy of Management. In addition, his analysis of the 1996 Mt. Everest climbing disaster won a best paper award from the journal Human Relations, and his extension of experiential learning theory was nominated for the first best paper award in the Academy of Management Learning and Education journal. His research has been featured in The Economist, Washingtonian, Wall Street Journal, NPR, BBC, BloombergTV, Business Insider, The Sunday Times of London, and Psychologies. Focusing on how leaders learn in the face of complex and novel situations, he has studied learning, leadership, and teamwork in a variety of settings in an effort to uncover hidden sources of vulnerability in organizations and identify ways that leaders build continuity in times of change and turmoil. His unique approach to goals and goal setting was featured in Oliver Burkeman's book The Antidote: Happiness for People Who Can't Stand Positive Thinking.
He is a senior fellow at the Center for Excellence in Public Leadership at The George Washington University. He is author or coauthor of four books: Contemporary Organizational Behavior (Pearson), Organizational Resilience: How Learning Sustains Organizations Through Crisis, Disaster, and Breakdown (Oxford University Press), The Learning Advantage: Six Practices of Learning-Directed Leadership (Macmillan), and Destructive Goal Pursuit: The Mt. Everest Disaster (Macmillan).