Guest Faculty Perspective: Developing Practical Wisdom in Organizations – Barry Schwartz
Practical Wisdom: The Right Way to Do the Right Thing
Dr. Barry Schwartz, the Dorwin Cartwright Professor of Social Theory and Social Action at Swarthmore College, provoked us with his thoughts on practical wisdom. He began by characterizing the LILA discussions of the previous day as "amazing," in that people's thoughts moved from incubation, through confusion, and toward asking "all the right questions." Throughout his talk, Dr. Schwartz provided rich examples and stories to illuminate his central points about the topic of practical wisdom and the ways in which organizations are making it nearly impossible to employ it, and characterizing the obstacles to be overcome if we are to develop it.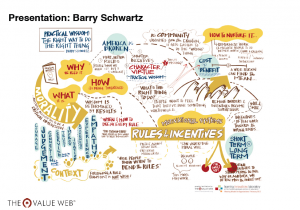 Schwartz began by citing Aristotle to frame that the essential dimension of wisdom is moral and about "doing the right thing" ‐ if we are using our intuitions and skills for the wrong purposes, then we are not in fact wise. Schwartz then noted that in America, our political, legal, financial, educational and health care systems are "broken" and not working in the ways they should, or can. We commonly confront this dilemma, he says, by implementing two tools: more and better rules (regulation) and/or "smarter" incentives to compel people to do the right thing. What these tools lack, according to Schwartz, is the element of character (an Aristotelian virtue). If people are not striving to do the right thing no amount of regulation or incentives are up to the task of fixing the problems we face, and – worse—the more we use them, the more we actually devalue virtue/character.
So what is the problem with this, and what should we do about it? Schwartz began by discussing why we need practical wisdom in our work lives. He drew his first example from a story about Dr. Jerome Groopman, emphasizing that while moral and medical ethics says "tell the truth," there is need for more "grey" in practice. What Groopman realized is that it is not just what he said that mattered, but that the manner in which he said it had to be just right. Schwartz's second example was about a sitting judge who went against precedent and "the letter of the law" by considering the personal circumstances of the defendant in meting out a sentence. Schwartz's most salient example came in the form of a story about research conducted with hospital janitors. The findings revealed that, while janitors' stated duties include no reference to interaction with, or responsibilities toward, patients, many felt strongly that a part of their job included the pursuit of the mission of the hospital itself ‐ being mindful and caring of the needs of patients and families – which at times required them to forgo their stated duties in the name of "doing the right thing."
The central question for Schwartz is how the people in these examples learn to do their jobs in the "right" way in the face of the rules under which they work? Schwartz concludes that while we need to be honest and tell the truth, following this admonition may not always be the right thing to do, and that how we do so matters as much, if not more, that doing so at all. Schwartz encouraged the group to consider rules as merely anchors and a guide in the process of deliberation. To further highlight this point, Schwartz conveyed the anecdote of Aristotle's observation of stonemasons measuring columns who needed to invent a ruler that bends. Wise people know when to bend rules: while rules help establish the moral standards we live by, to take them at their word makes the world black and white, but our work in living and interpreting them is full of shades of grey.