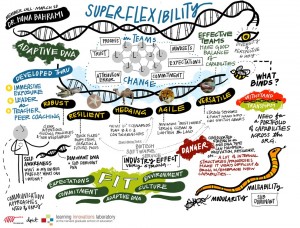 To listen to the webex recording of the call, click this link:  Superflexibilty
Homa's research findings suggest that there are different ways to adapt to change that range from withstanding turbulence to transforming – the combination of which represents Super-Flexibility. Homa has developed 5 profiles corresponding along a continuum that can be helpful when thinking of how to configure teams, thinking about developing capacity for super-flexibility and creating environments that allow this adaptive DNA to flourish. These five profiles are robust, resilience, hedging, agility and versatility. The good news is that there are ways to develop these capabilities and Homa shared three of them with the group:
Immersive exposure: engaging in experiences
Leader as teacher: having leaders package and teach what they learn about these skills
Peer coaching conversations: creating mentoring relationships
Homa Bahrami is an international educator, advisor, and author, specializing in organizational flexibility & team effectiveness in dynamic, knowledge-based industries. She is a Senior Lecturer at the Haas School of Business, University of California, Berkeley, where she has been on the faculty since 1986. She is the co-author of a major textbook (with Harold Leavitt) "Managerial Psychology: Managing Behavior in Organizations", published by the University of Chicago Press, and translated into many languages. Her latest book "Super-Flexibility for Knowledge Enterprises", published by Springer (second edition, 2009) focuses on practical approaches for organizing and leading knowledge workers in dynamic settings. Homa serves on several boards in Silicon Valley and Europe and is active in executive education and executive development in the US, Europe, and Asia. She works with executive teams on complex re-organizations, team transitions, and team effectiveness, and with HR & OD professionals on executive development and learning interventions. She has worked with and trained many new managers in the life science and technology industries.
To listen to the audio recording, click here.