In response to member interest in gaining a better understanding and skill around creating visual narratives, LILA will again be hosting a series of graphic workshops. These will be facilitated by Kelvy Bird and Sita Magnuson and are provided as part of your membership in LILA. These sessions will take place on the afternoon prior to each of the three remaining LILA gatherings. While participation is optional, we ask that you honor your commitment once you have made it, so that each session can be planned accordingly. Each session will be a standalone event; however, the skills gained are cumulative and will enable you to use different elements when you create a visual narrative.
Goal
LILA members will receive an overall "meta-framework" to reference while visually synthesizing their learning, exploring ways of identifying, relating, and displaying content. The three sessions will each combine drawing skills with facilitation techniq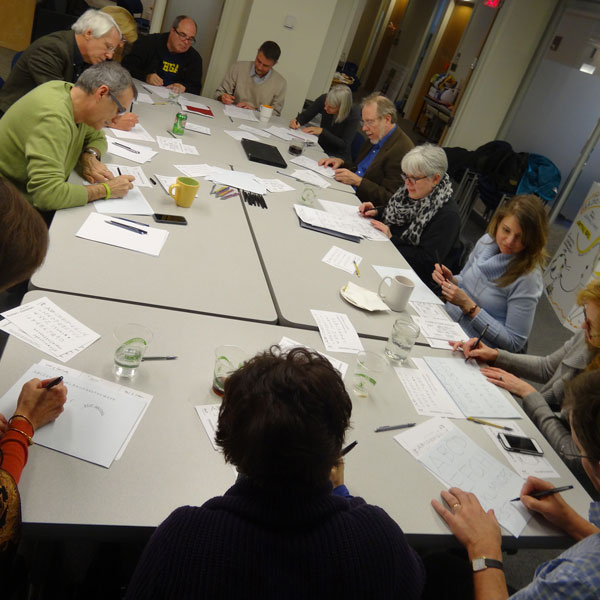 ues, and guide members to integrate their insights during applied practices rounds around discerning, framing, sensemaking, relating, and listening
Workshop One: Tuesday, February 10 from 3:30-5:30PM
Discerning, Framing, Drawing
Focusing on handwriting, bean people, expressions, and layout, LILA members will develop primary tools to communicate in drawn words and pictures. These basics will weave with Bypass-Name-Engage, a model for dialogue adapted from Bill Isaacs that informs choice-making when filtering content. We will apply these tools by beginning a visual narrative map.